Bridging the Gap between IT and OT with Orchestra
In the course of digitalization and process automation across departmental boundaries, connectivity and data availability are becoming increasingly important. However, processes in production are becoming more and more complex, and the amount of data continues to increase. IT/OT convergence is a necessary step on the way to a technology-based future. Only when the two worlds of information technology and operational technology are combined is it possible to speak of a true smart factory.
IT/OT convergence: integrating two worlds
In industry, IT/OT convergence describes the integration of information technology (IT) systems with operational technology (OT) systems such as machines or plants.
The resulting connectivity not only paves the way for further IoT use cases such as MES integration, but also means that you can generate more meaningful key performance indicators (KPIs).
At many production sites, IT and OT still operate separately from one another – but in the future, the two areas will merge. The demand for data provision and availability at the shopfloor level is steadily growing and is becoming increasingly important for companies in the industry.
Convergence and the right use of data create potential for process optimization along the digital value chain in a smart factory.
What is the difference between IT and OT?
In the past, "IT vs. OT" stood for something like "software vs. hardware" or "office technology vs. operating technology". IT was responsible for complex data, OT for the producing machines.
IT: Information technology refers to computer-based information management and includes tools such as servers or network devices.
OT: Operational technology includes the hardware and machines needed to monitor and control production.
Meanwhile, the boundaries between IT and OT are becoming increasingly blurred. IT/OT convergence is an important step towards digitization and offers companies unprecedented performance.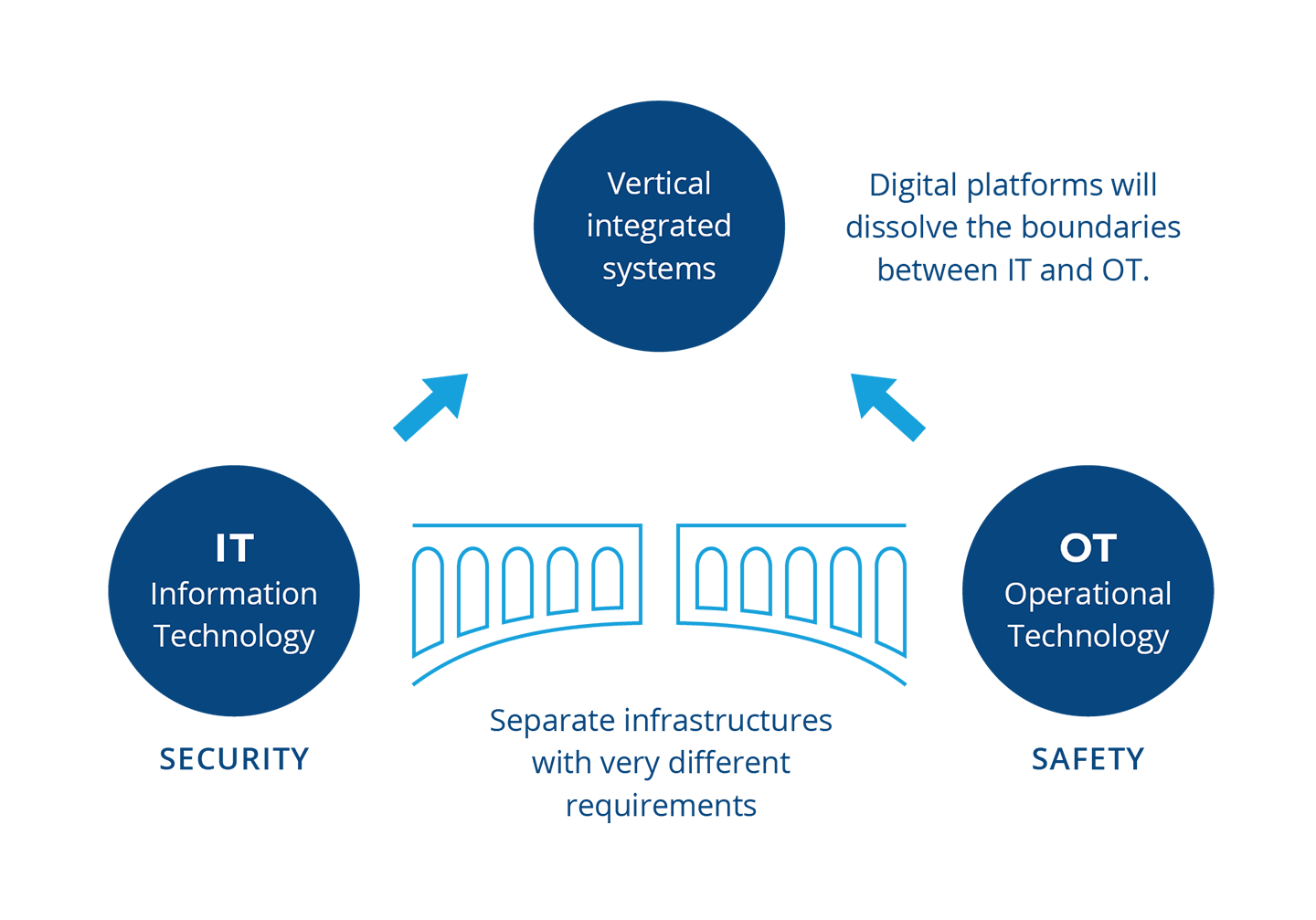 What do you need good IT/OT integration for?
As plant landscapes in factories and production grow, complexity increases significantly. More and more software is being installed on the machines and systems – and this must remain up-to-date.
In the course of digitalization and process automation, connectivity must be established and secured all the way to the plant. A connection between IT and OT is essential not only for the integration of an MES system, but also for smart products, digital services and predictive maintenance.
At first glance, you can't "produce anything" by connecting the two worlds – IT and OT. However, IT/OT convergence is architecturally indispensable – and ultimately necessary in order to cover or enable further use cases.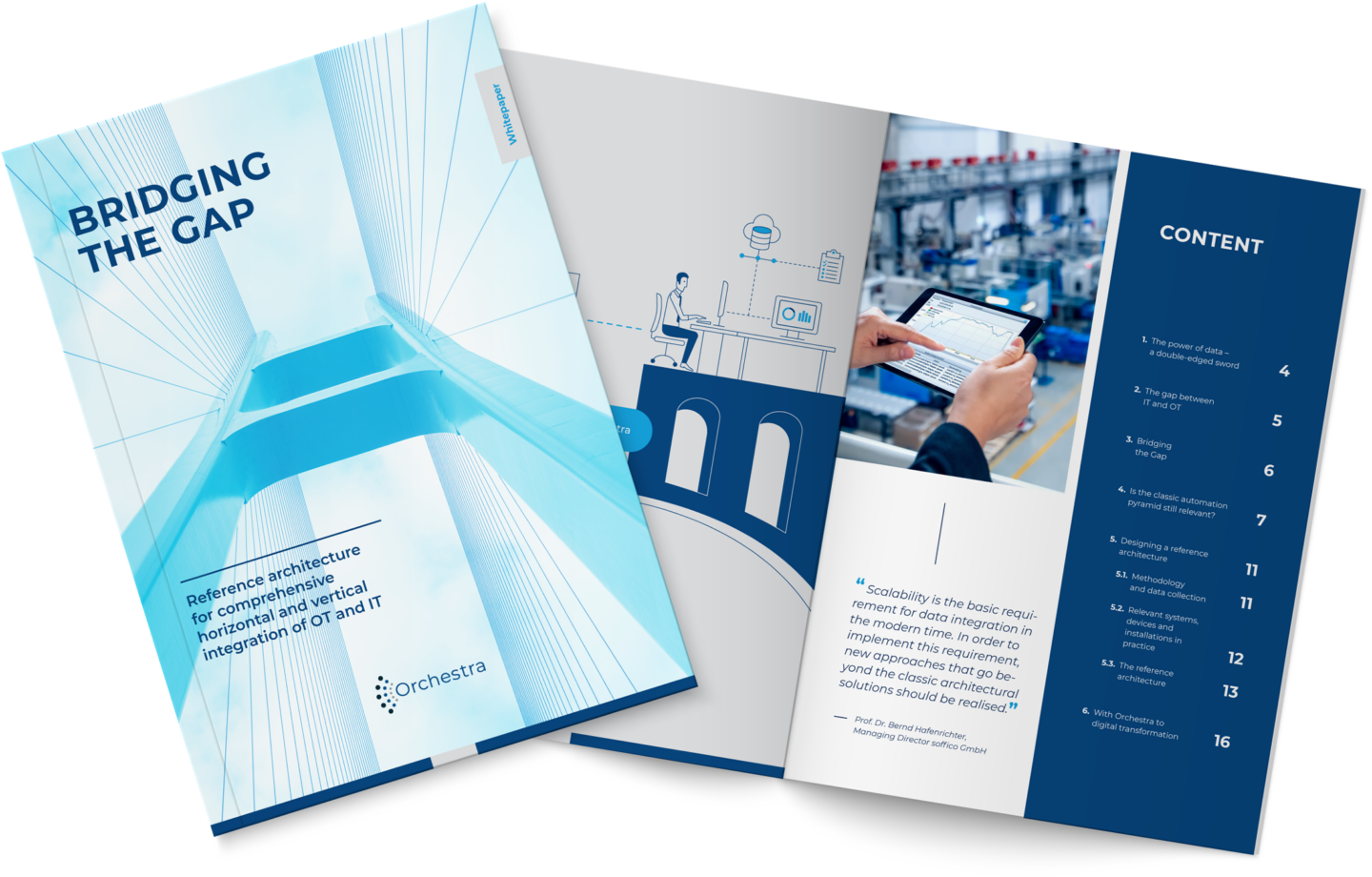 Requirements and challenges of IT/OT convergence
If factory equipment is to be connected to the Internet, there are risks for sensitive data. Therefore, good IT/OT convergence requires careful planning and control. Potential threats must be identified, risks must be continuously reassessed.These difficulties often prevail in classical production:
Computing units of the plants and machines are often not connected to the Internet and do not receive updates.
Firewalls would have to be opened to connect these machines.
A central challenge is the security of the systems because this is the only way to ensure the stability and availability of production.
There are therefore special digital solutions for many machines. This is where IT/OT integration by the industrial software provider soffico comes into play.
Benefits of IT/OT-Integration
First and foremost, the synchronization of IT and OT enables increased security in the production process – existing security gaps are successfully closed. IT/OT convergence also enables in your production: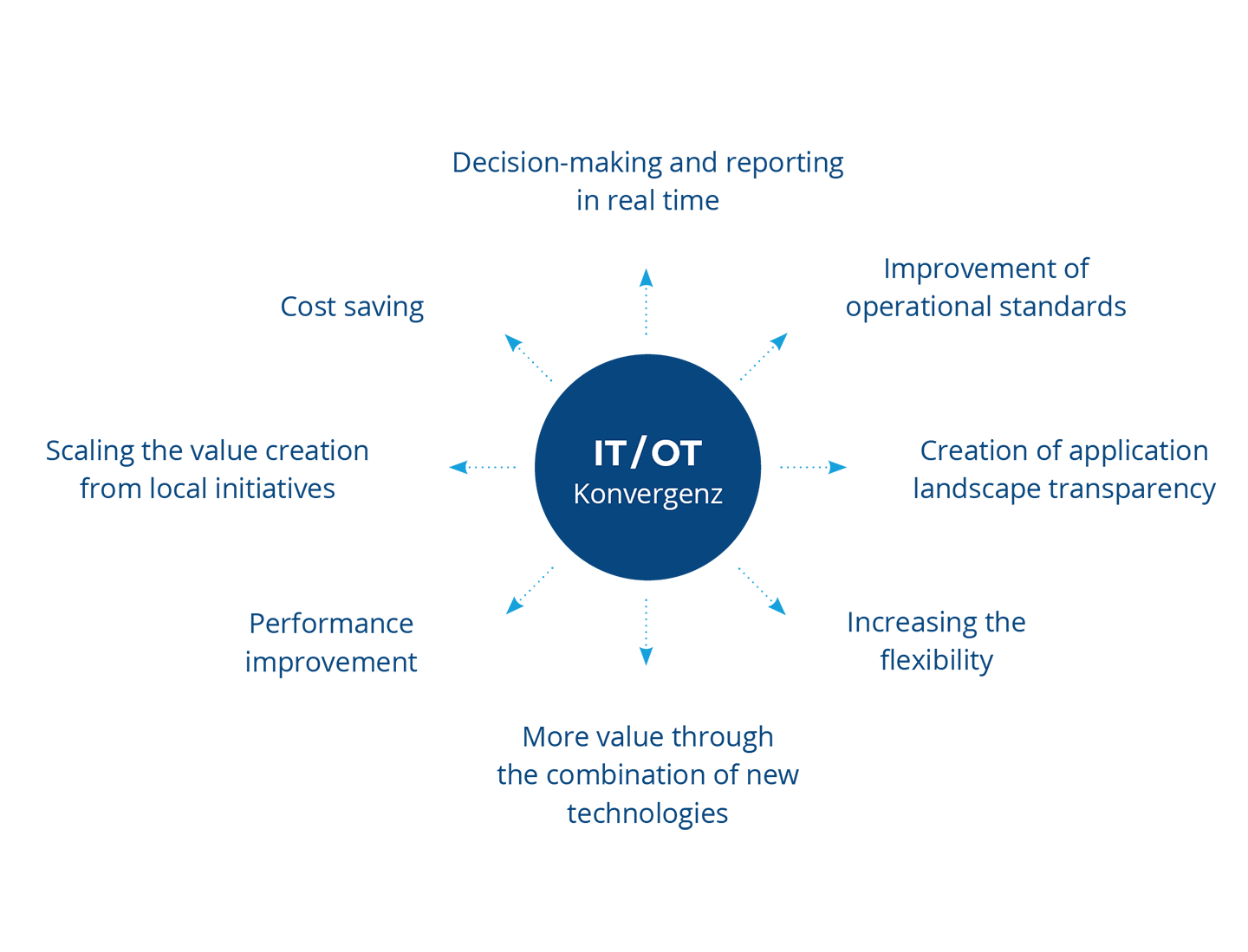 IT/OT-Integration with Orchestra:
With soffico to the Smart Factory
In addition to the benefits that IT/OT convergence brings to your digitized production, soffico supports your company in additional ways. Secure all the benefits of IT/OT convergence with the integration software Orchestra Industrial Suite:
Orchestra enables Industry 4.0
With Orchestra, you only need one port. This means a minimal opening of the firewall in a small place – and thus less risk.
Incoming as well as outgoing connections can be graphically displayed and monitored and thus easily tracked.
With Orchestra Service Bus, you can efficiently implement edge-to-cloud and edge-to-fog use cases.
The Industrial Suite offers data security and application diversity
In addition to a broad partner network and many years of expertise, soffico also offers its customers other technical advantages:
Transparency and data sovereignty
Stability and reliability
Do you have questions?
We are happy to help you with a personal discussion.