With Orchestra to more Connectivity and Transparency
Whether for a Digital Twin, Condition Monitoring or IT/OT Convergence: A data architecture is the basic prerequisite for pretty much every use case and solution in modern production. Data Architecture paves the way to the Smart Factory and opens up the possibilities of the Internet of Things (IoT) and Industry 4.0. But how does it work?
What is Data architecture?
A data architecture, also called information architecture, is a part of the IT architecture.
The data architecture considers fundamental structures and principles relating to data and information, their construction, use and further development in the company.
A data architecture has become standard in the modern enterprise and effective production to uniformly define how data is captured, stored, distributed, transformed, or used.
The goal is, among other things, to visualize and manage the data and its flow within a company – and to make it immediately accessible to everyone as needed
Characteristics of a good data architecture
A modern, hybrid and long-term efficient data architecture should bring numerous features and capabilities:
Simple, elastic & scalable
End-to-End security
Seamless data integration
Real-time data
AI-driven & automated
User-driven
It can be stated: Data must no longer have to be requested only in a roundabout way via IT. Data is a common good, users must be given appropriate access to data, data flows must be designed to be comprehensible and agile, and of course they must always be secure.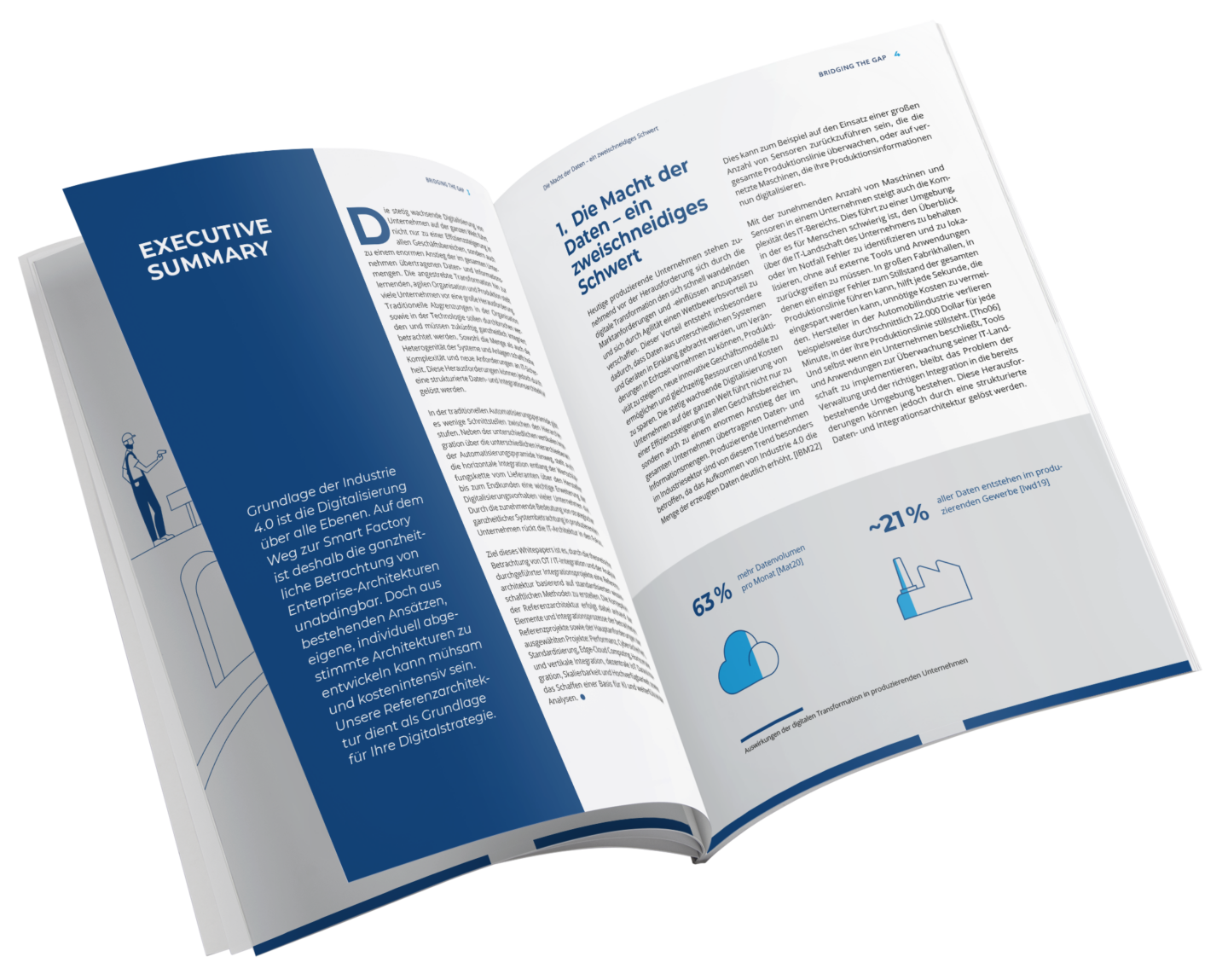 Prerequisites & Perspectives: With Data Architecture to the Smart Factory
Software integration is essential for the implementation of a suitable data architecture. Since data architectures should remain in place for a long time, adaptability is also particularly important
With Orchestra you convert expensive data into profitable information and solve the problem of direct translation through efficiently designed interfaces. With our service bus functionality, information from all data sources can be published, subscribed to.
The Orchestra middleware then makes it possible to implement any use case on the existing data architecture, regardless of the provider, and thus to upgrade one's own production to a smart factory.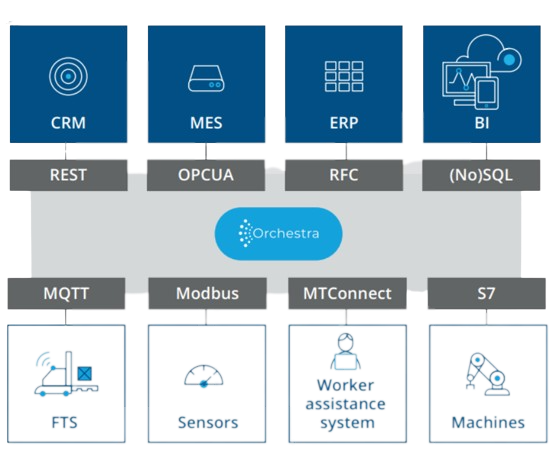 Why effective Data Architecture is essential.
For work across departmental boundaries, it is important to link data between different expert systems – both in IT and OT. With efficient architectures for data exchange and information retrieval, you create the best conditions for getting everything out of your production.
In the long term, numerous opportunities and benefits arise from data architecture, such as:
The gap between IT and OT can be bridged by a suitable data architecture.
The data architecture can be extended and adapted depending on the complexity and scope of the use cases.
Good data management brings long-term success.
In the past, the best approaches were the automation pyramid and point-to-point connections. Today, this can be solved more efficiently with our Service Bus Orchestra as the central translation point.
Creating Big Data architectures – with Orchestra Industrial Suite
We design the right data architecture according to our customers' requirements and implement it based on Orchestra Industrial Suite. Not only are our experienced experts at your side every step of the way, you also benefit from years of experience in software integration. We don't just offer you a product, but accompany you in workshops all the way to implementation to the finish line.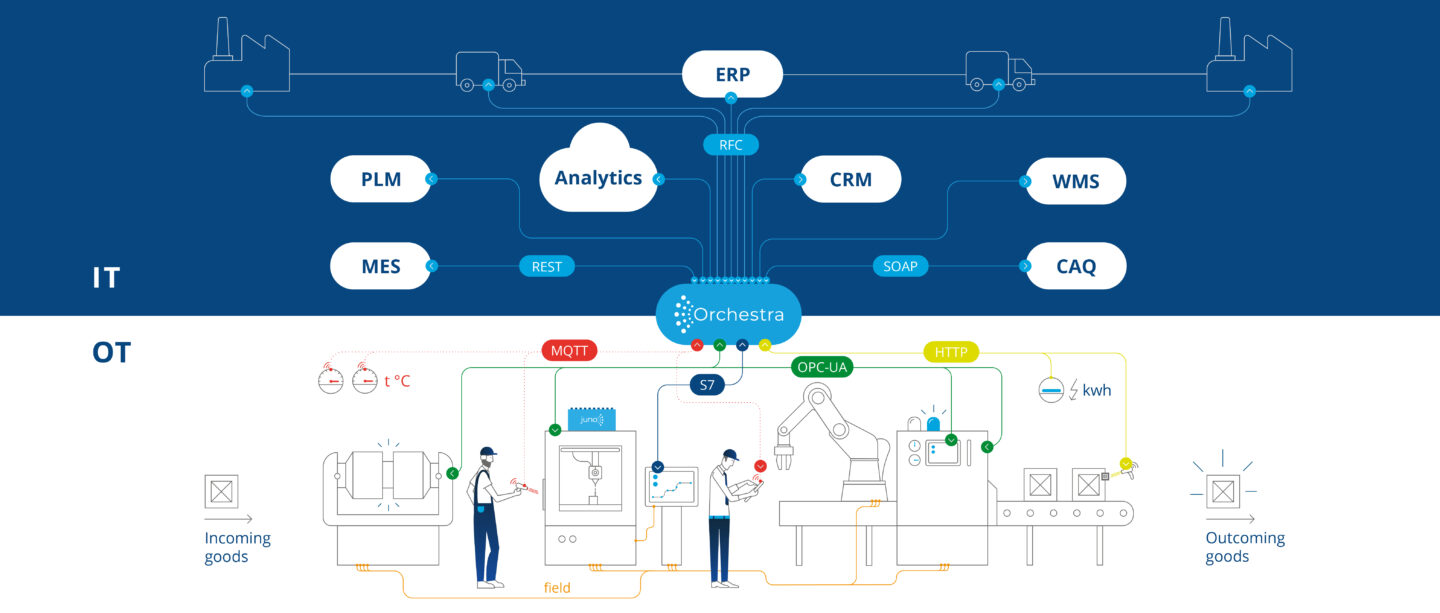 Orchestra enables Industry 4.0
At the same time, you always enjoy the benefits of software implementation with soffico in each of our IoT use cases:
Application diversity: Horizontal and vertical integration of various in-house applications as well as external partners along the complete value chain.
Edge architecture: Autonomous, decentralized systems as well as an optimal integration architecture through a hybrid processing model.
Future-proofing: Less dependence on individual manufacturers or technologies.
… as well as all the other advantages that
Orchestra offers your production:
Transparency & data sovereignty
Do you have questions?
We are happy to help you with a personal discussion.